"I am not, in my natural state, nearly so much of a person I like to believe: most of what I call 'me' can be very easily explained. It is when I turn to Christ, when I give myself up to His Personality, that I first begin to have a real personality of my own."
From Mere Christianity by C.S. Lewis
counting blessings of being me in Christ…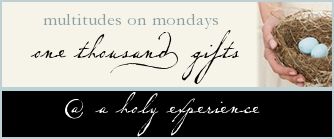 school over on the college front
mailed off books
finals finished
deep breaths and prayers
green everywhere
work!! in an economy where many are searching for work that they enjoy, I feel so blessed to have found a job I love!
sneezing at all the green everywhere :) and Claritin to help
khaki pants
new bank account and checks with my name on it
my messy desk
my favorite big NWC sweatshirt in the morning
windows wide open
blessings on this beautiful Monday!
Kaye